December 5, 2016
---
This week on our profile of Calgary's Westside, we are focusing on Coach Hill and Patterson simultaneously because both neighborhoods share similar origins and characteristics.
The two maps below reflect their geographical locations on the Westside. Patterson is bordered by Sarcee Trail on the east, Old Banff Coach Road in the south, and steps to the northwest along 69th Street. Coach Hill is just south of Patterson, is somewhat triangular shaped and is borderd by Old Banff Coach Road, Bow Trail, and on the west side, Coach Hill Road. Both neighborhoods are essentially a generation older than last week's feature of Cougar Ridge-Coach Hill was established in 1979 and Patterson followed suite in 1983.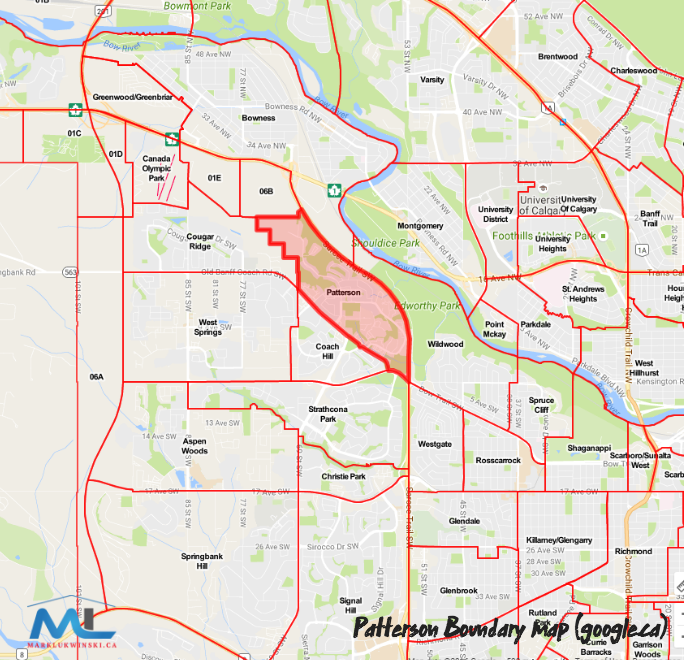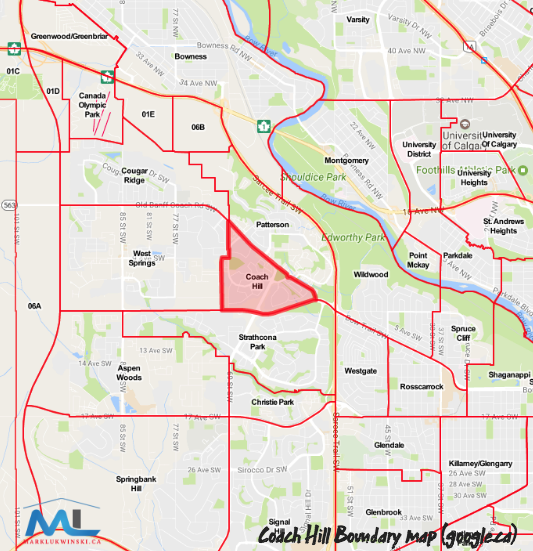 Demographically speaking, both neighborhoods are definitely more mature. According to the last census of 2014, just over 4300 people live in Patterson, and here 68% of the population are between 20-64 years of age. Conversely, only 13% of people are below the age of 15 and this contrasts sharply with last week's Cougar Ridge profile where 30% of their community population are under 15 years of age. Futhermore in Patterson, 14% of the population is over 65 years of age -in Cougar Ridge, only 3% of the inhabitants are over 65 years of age. In Coach Hill, 65% of the 3303 population are between 20-64 years, 15% are over 65 years of age, and 16% are under 15 years.
Both communities are over-whemingly english-speaking, where only a fraction of the population (Patterson, 2%; Coach Hill, 1%) do not speak english. In terms of owner-occupied dwellings, Coach Hill reflects 85% of owner-occupation where as Patterson comes in lower at 77%. The types of structure-types in Patterson are almost roughly equally split three ways among single-family (28%), apartment (33%), or townhomes (31%). In Coach Hill, we see a difference because 44% of the structure types are single-family, 16% apartment, and 34% as townhome.
When looking at socio-economic demographics, a survey from 2010 declared that the median household income of private households in Patterson was found to be $92,251, which is above the City's rate of $81,256. Coach Hill ranks at $78,351. According to CREB, the average home price YTD for 2016 in Patterson is listed as $950,000 for single homes (new developments in the area do affect this home price), and $382,000 for attached homes. In Coach Hill, the YTD average home price is $598,000 for single homes and $320,000 for attached ones. (Just like last week, if you'd like more information than we've provided here, please click over to The City of Calgary's website which provides even more precise and analytical data for Patterson and Coach Hill).
Crime is also low in Patterson and Coach Hill, as depicted in the following images provided courtesy of the Calgary Police.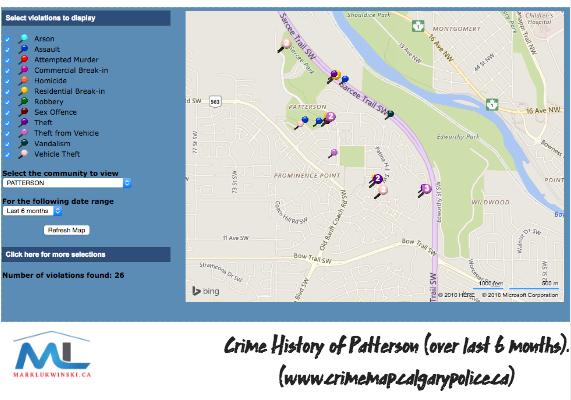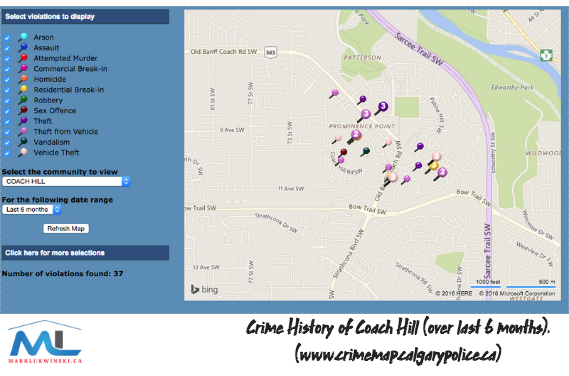 In terms of placement in the city, both these neighborhoods offer attractive and sought after proximity to the mountains, as well as easy access to downtown in excellent time. The C-Train terminal for 69th Street station is also a quick drive away and is also serviced by buses if you don't want to drive at all. Likewise, within the local area, there are some shops at the entrance into Patterson off Old Banff Coach Road, but with so many ammenities nearby in Wentworth, Aspen or Westhills, both areas are very well serviced. A Fire Station is found within Coach Hill, which is great to have so close. Green spaces are a plenty and fill both neighborhoods, where these parks are used often by locals or sports teams in the area. Like all communities on the hill, Foothills Hospital or RockyView Hospital are closest in the event of medical urgency.
Both communities have to send students to schools nearby as there are no schools in the immediate neighborhood.There are several schools that are listed as designated schools for the community, as mentioned in the list below (and found on this link):
SCHOOLS IN THE PUBLIC SYSTEM
Westgate Elementary (Fr. Immersion) *
Bishop Pinkham Jr. High (Fr. Immersion) *
SCHOOLS IN THE CATHOLIC SCHOOL DISTRICT
St. Michael Elementary/Jr. High *
St. Mary's High School (Ext. French) *
There are also several private schools in the vicinity:
Menno Simons Christian School
Rundle College Jr/Senior High School
The Calgary French and International School
For places of worship, both communties have many to choose from in the area. St. Michael's Catholic Church just down 85th Street is very close, as is the Bethel United Reformed Church, and the New Apostolic Church. A short drive south towards 17th Avenue, there is the Calgary Islamic Centre and there is also the Korean Presbytarian Church.
There is a cojoined community association that caters to residents in the area. Their website is very comprehensive and informative and offers details on community events and programs, city events, and details on ammenities or services in the area. Membership is very economic, at $5.00.
Both of these communities have a rich history and also boast of landmarks famous in our city. The University of Alberta was originally supposed to be built on this hill, but in the end got moved north to Edmonton, where it is still obviously located today. The Patterson family owned much of the land as acreages years ago and when it was sold to the city, their family name was given to the the community. Coach Hill was also called Broadcast Hill, and lastly, the historic brick home in the community was owned by the Crandel family. They were a very successful family who owned the first brick factory in Alberta, and where Edward Crandel was also an Alderman. Years later that home was sold to the Hart family, which everyone in the city is familiar with due to their legacy in the world of wrestling.
Thanks for reading along this week as we move along Calgary's Westside. If you're in the market to look for a home in Calgary's Westside, most definitely give these two mature communities a drive through and as always, I'm happy to answer any further inquiries you may have!
Mark.
---