As per our blog last week, we announced we would be doing a description of all the different neighborhoods that encompass Calgary's Westside, starting from Cougar Ridge this week and ending in a few weeks time with Discovery Ridge.
If you're not familiar where Cougar Ridge is in the city, it's located just south of Canada Olympic Park, on the north side of Old Banff Coach Road. Located in Ward 6, on its east you find 69th Street, and on its west it is bordered by 101st Street. Established in 2001, it is no longer one of the youngest neighborhoods to be annexed in this south west quadrant in the city, however it has lots to offer.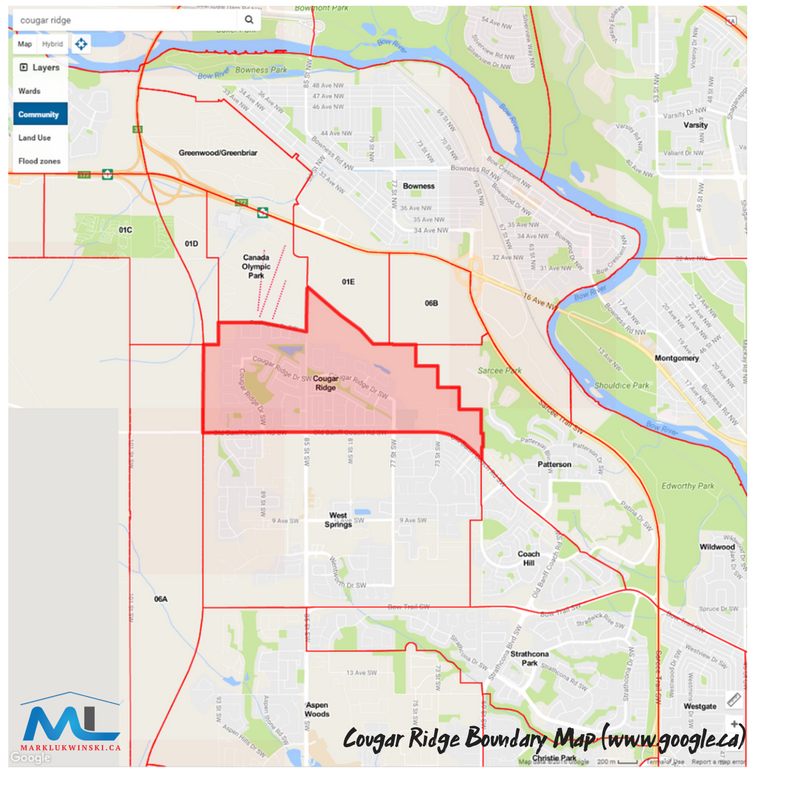 Demographically speaking, it is a neighborhood filled with young families. According to the last census of 2014, just over 6700 people live in the area, where 30% of that population is under 15 years of age. Only 3% of the inhabitants is over 65 years of age, and it is a community that is still growing in terms of population age, but not in size. It is an english-speaking community where 1% of people living in the area stated they don't speak either French or English. Crime is low in Cougar Ridge, with the most common offence reported being as theft from vehicles on the Calgary Police community profile site and as seen below.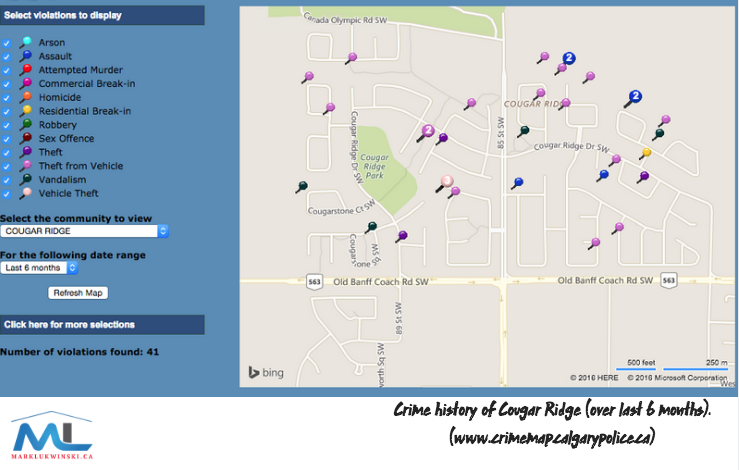 The census of 2014 also states that 91% of the homes, be it single dwelling, apartments, or townhomes, are owner-occupied, which makes Cougar Ridge very attractive. In terms of economic demographics, a survey from 2010 declared that the median household income of private households was found to be $130,838. Accroding to CREB, the average home price YTD for 2016 is listed as $580,449.00, with most homes selling in just over a month, (37 days to be exact!), after being put on the market. (For more details than we've extracted and presented here, please click over to The City of Calgary's website which provides even more precise and analytical data for Cougar Ridge.)
In terms of placement in the city, this neighborhood's location is extremely attractive and sought after due to it's proximity to the mountains, and because a quick jaunt down Old Banff Coach Road and Bow Trail takes you to downtown in excellent time. The C-Train terminal for 69th Street station is also a quick drive away and is also serviced by buses if you don't want to drive at all. Within the area, there are plenty of shops and ammenities very close by. There are two gas stations on either side of Old Banff Coach Road and many shops a few minute's drive away, such as Co-op, Shopper's Drug Mart, No Frills, Mercato and a vast variety of restaurants, clothing shops, doctor's offices, dentists, vets, and eye-doctors. Everything you really need is truly on this hill! A Fire Station a short drive away in the neighboring neighborhood of Coach Hill also brings comfort and a quick response if needed. Green spaces fill the neighborhood with many playground zones to let the children play and be outside. Like all communities on the hill, Foothills Hospital or RockyView Hospital are closest in the event of medical urgency.
Cougar Ridge, like so many neighborhoods on the westside have a variety of schools and places of worship to choose from. Schools representing the private sector are found immediately within walking distance, and kids are bussed or driven to the public sector schools. With so many kids in the area, residents are truly blessed to have the opportunity to decide where to send their kids. Right in the heart of Cougar Ridge is the Waldorf School and the Calgary French & International School,both of which are private. Other private schools in the close vicinity are Webber Academy and Rundle College. In the Calgary Public School district, Rosscarrock School is the designated school for K-6 students in Cougar Ridge and it offers both French and Spanish immersion, however please refer to the school's website for more information on these immersion programs. There are special considerations given to kids from Cougar Ridge to allow them to attend WildWood School if there are already older siblings there, however Rosscarrock is the designated school. West Ridge Middle School which is brand new and slated to open in January 2017 allows for intake of kids from Cougar Ridge and will cover grades 5-9. In the separate system, St. Joan of Arc is located very close by although difficult to get into at time of publication, but our sources do tell us that registration into St. Joan of Arc should be easier once the Catholic school in Aspen opens in the latter part of 2017. Currently, the overflow school for St. Joan of Arc is St. Michael's in the separate system.
In terms of high schools for the public and separate system, Ernest Manning is located a short drive away for the public route, whereas the feeder highschool for St. Joan of Arc is either Bishop Carrollor St. Mary's High School. Should your child be athletically gifted, the quick escape out of the city to head west comes in really handy, since the Edge School for Athletes is a short drive down highway 1 heading west.
For places of worship, Cougar Ridge has many to choose from in the area. St. Michael's Catholic Church just down 85th Street is very close, as is the Bethel United Reformed Church, and the New Apostolic Church. A short drive south towards 17th Avenue, there is the Calgary Islamic Centre.
Like most neighborhoods, residents of Cougar Ridge share an annual levy that is separate from the City to cover expenses that relate to green spaces seen in entrance medians, boulevards, etc. The fee is an annual fee which spans the calendar year and at last reference, it was set at $108.15/year. There is also a community association linked with West Springs, for which membership is optional, but valuable. At $25.00/year, individual members enjoy discounted pricing to events such as community ski/snow board night at Canada Olympic Park, Learn to Skate programs at WinSport, up to date information on events that relate to kids in the community, discounts to sponsored shops in the area, and more!
To end, Cougar Ridge is a dynamic community that summits the Paskapoo Slopes and the Paskapoo Slopes themselves offer some fun trivia to dazzle your friends with because the sediments underneath the hill are between 62.5 to 58.5 million years old, AND the area was historically used as a buffalo jump to hunt bison by First Nations, similar to what is seen at Head Smashed in Buffalo Jump! (Casually drop those facts over holiday gatherings, and you will be the Cool Cat of Cougar Ridge!) It is a vibrant community that is so well placed in the city-on the ridge it is seeminly isolated, however in reality it is extremely well connected to the local community and downtown and has so much to offer. Residents are friendly and take pride and care of their community. Lastly, if you're lucky, you may also come across visitors of a furry kind, such as deer or moose, as seen in this video! Keep your phones handy!
We hope you've enjoyed this compilation on facts about Cougar Ridge-I'm happy to answer any further inquiries you may have about this community, please do get in touch!
Mark.